What I'm about to do in this post is copulate three different technologies that open up many opportunities that I envision. Brace yourself, relax and get ready to open your mind into the matrix.
Virtual Realities | Autonomous 3D Mapping | Gesture Tracking
If you think you know about enough about these three technologies, skip down below to where ...
Virtual Realities. If you are interesting at all in emerging technologies, then you should know about the Oculus Rift by now. They had a successful
kickstarter campaign
, reaching their goal of $250,000 in the first day and ending with a lump sum of nearly ten times that, $2.4 million! I speak very highly of the Oculus Rift, and when I explain it to others, I introduce it by saying "When Steve Jobs said he worried about the next big thing that would be coming out of a garage, the Oculus is a perfect example."
What is the Oculus Rift? A fully immersive virtual reality headset, targeted towards gamers. The user would put on the headset, and their head movements would control the vision in the game. This allows players to feel like they are the character from game, by sharing the first persons perspective.
The display covers 97% of the users field of view (FOV), thats a whole lot more than what the typical pair of prescription eye glasses cover. While the FOV is great and all, it wouldn't be helpful if there was latency with the movements. This is where the Oculus differs from all the other consumer headsets, by using accelerometers and gyroscopes with close to no latency, it convices the users mind they are truly in another (virtual) world. It is so good that after using the Rift for a few minutes, it takes time to adjust to our normal reality.
The next technology I wanted to introduce is 3D mapping. This might not be new for some of you, either way, the way I envision it being used is hopefully somewhat thought provoking.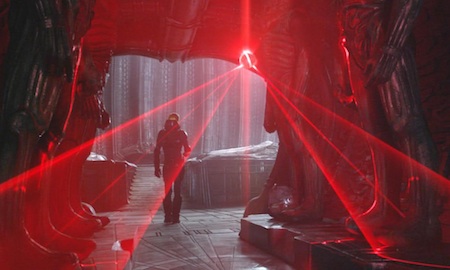 Coming out of the University of Pennsylvania, Shaojie S. Nathan M. and Vijay K. have been working on "Autonomous aerial navigation in confined indoor environments." What does all that jargon mean, well essentially they are creating a device that replicates the same purpose as mapping drones in Prometheious.
The device they created flies around a closed environment, using cameras to both navigate and create 3D maps of the surrounding area. If put in a your house, this could create a full digital 3D model of it.
Now with the a full 3D model of your house and a great open sourced virtual reality headset, just imagine the possibilities. Well I did, that's why I'm writing this. This means you could map out your house, upload the map to the Oculus, then wear the Oculus around your house using the uploaded map to navigate.
Yes, yes, I know, there are many technicalities around this, at this moment in time (while not everything is connected to web) you wouldn't be able to use it all the time in your house. For example, making a meal wouldn't work out too well, nor would interacting with others in the house, as none of those would have a way of being detected. These are only limitations at the moment and they all have a way around it, I won't get into the possibilities as that could be a whole other post, feel free to share your thoughts in the comments below.
Aside from the technoicalities, what are the possibilities?
Now that you are ready with your Oculus Rift and your 3D realistic house, you can start thinking of your house more like a screen saver now. Rather than these bland colours hopefully that stick on our walls, we can impose anything. Take a second and think for yourself what you would want to see while in your house.
Space
Safari
Favorite travel destination
Movie Scene
These could be either digitally created or have a camera and microphone set up to a server hosting the experience in real time. Rather than channel switching, you'll be scene switching locations. Lets say you are coming back home from a long day. Take your keys out, unlock the door, walk in and put on your Oculus Rift.
You are now immersed. Where are you?
I'd pick the international space station (ISS), although it might be somewhat nauseating. The walls on the perimeter of my house would represent space. I would walk into my living room, put down my bag, sit down on the couch, relax and enjoy the fact that (virtually) I am immersed in space, with the same view as the only
6
other astronauts in the ISS.
You could really pick anywhere, and like I've been pushing you to think for yourself where you'd like to be, I'll ask again. I like to hear what other peoples dreams are, or if they are just content in the reality they are living in now.
For simplicity, lets say we are still in space. Rather than seeing a live-feed from space, for this example imagine we are using a computer generate model. Still sitting on the couch, and I could like to zoom into earth (like on Google Earth).
Using hand guesstures to control a computing system (a virtual earth for this example) we are able to make use of our dexterity like never before. This is the mouse of the 21st century. That is what Mycestro is doing. They just raised over three times their goal, bringing in over $300,000.

http://kck.st/WZoGGN

This post was written months ago and I felt bad leaving it as a draft while the Oculus community is building and sharing dozens of such creative ideas. I do apologize for the abrupt ending but I'm off to build my virtual world.